The story
We are on the same wave as you!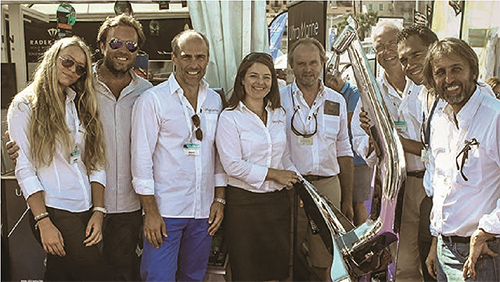 The sea and boats is our life and our passion. We love them it just like you do and that is why we understand you; we know what your dreams are and what you desire because we see the world through the same eyes. That is why we are able to give you the best – to experience adventures and to make your dreams come true aboard a boat with the utmost comfort, satisfaction and safety.
I was born as a landsman, but some of my ancestors had once sailed the world's seas, some of them even standing on captains' bridges. Maybe destiny was decided here, which led me to the Mediterranean Sea at the beginning of the 90s and awakened a desire to sail freely, to explore the sea and to allow the passion that was hidden until then to erupt.
And that has lasted for over twenty years. Over that time, I have tried almost all the roles that are related to this passion – I was and still am a yacht owner, customer as well as a salesman, but most of all, I am a fan of all boats and boating. My passions has also brought great business successes: I have sold more than 700 boats and earned my name on the market. This period gave way to new activities, one of which is the production of 3D scale boat models, which are appreciated by boat-owners who cannot stand to be without their boat at home or at the office, as well as boat builders and distributors, who, thanks to these realistic models, can illustratively present their products.
When the marine industry went through a crisis a few years ago, I decided to expand my activities and established a branch in the Seychelles, which is a true and for many a still undiscovered yachting paradise for all fans of boats, as well as an area where the season never ends. During one of my trips to the Dubai International Boat Show, I encountered the unique products from the Boyut Makina company, a family business from Istanbul that develops and produces revolutionary anchors, flip swivels and other anchoring accessories. These products absolutely fascinated me. When I found out from my own experience how great they are, I decided that I wanted to introduce them to other boat-owners; therefore, I became the distributor for Europe.

Now, under the Ultra Marine brand, a new company called Ultra Marine Europe offers unique products manufactured on the basis of original patents that have brought a true revolution to anchoring as the retaining force has shifted the safety of anchoring to an entirely different level. They also help to protect the unique sea ecosystems, a factor that is appreciated by experts on the protection of the underwater world, for example, the famous diver, traveller and filmmaker Steve Lichtag.
If you also rank among the supporters of boat safety and you are looking for innovative ideas, you love the sea and boats and you are interested in the latest trends, then the following pages are meant for you. 
Radek Masin
and the Ultra Marine team
Our passion for the sea
Safety

We cooperate with breakdown services at sea. We have same goal of providing boat owners with the maximum safety when out there cruising.

 

Quality

The American Bureau Of Shipping, the offi  cial U.S. authority, has approved our Ultra Marine anchor design strength level as 7 times higher in comparison the conventional "admiral" anchor design.

 

Experience

Bruno Troublé, the world renown French sailor who competed in the 1968 and 1976 Summer Olympics, experiencing the advantages and functions of our anchors every day.

 

Promise

Film director and diver Steve Lichtag has focused on wildlife and the marine world all his life and his fi lms have collected several international awards. As president of the Crystal Planet Foundation, commissioned to help protecting underwater fl ora and fauna. He also recognized the great contribution of our anchors to protecting the seabed. His last 3D fi lm, Aldabra Island, was shot in the Seychelles, where our anchors have been appreciated not only by local boat owners but also by government authorities.

 

Protection

We keep the future in mind! Therefore we support the race against time to save oceans from being devastated by plastic in our role as a technical supplier.

 

Ecology

The unique functionality and anchoring effi  ciency of our anchor contributes to protecting the seabed from often quite irreversible damage.